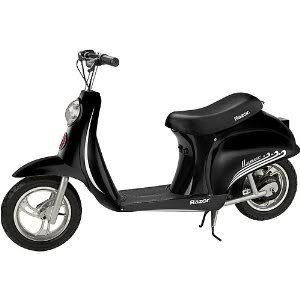 Razor has truly amazed me with their ability to create unique designs in kids scooters - the
Razor Scooter Pocket Mod
is no exception! This is one of the more innovative and sleek scooters for kids available!
Basic Information on the Razor Scooter Pocket Mod:
This scooter is intended for kids age 12 and older, will travel up to 15 MPH and will run up to 10 miles when fully charged. Based on what I read from customer reviews for this scooter, it is easily balanced and designed well for kids in order help with the aspect of safety.
Pocket Mod Colors:
There are 6 distinctly different looks/colors for the
Razor Pocket Mod Euro Mini
, including "Hot Mod" Red (a color that is exclusive to Amazon), "Vapor" Black, "Betty" Lavendar, "Sweetpea" Pink, "Bella" Dusty Pink and "Bistro" Aqua (the last on the list is quite a bit more tricky to come by).
Shopping for the Razor Pocket Mod Scooter:
There are a few places online that carry this scooter, but some are better than others in terms of price and selection.
I have gathered all of the best resources I found and put them in one place here:
Note:
I have found that there are some of these scooters available with "minor factory cosmetic errors" that are available for a
much
lower price. If you don't mind a few "barely there" sticker misplacements and minor scratches - and if you are on a budget - this could be the way to go when shopping for the
Razor Scooter Pocket Mod
.
All for today -
Tonya B.