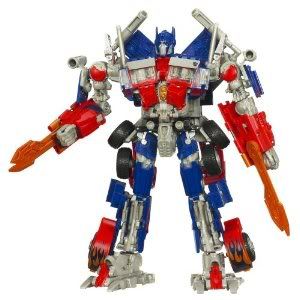 (Information from
Top 10 Transformers Toys 2010
.) Ah yes, Transformers - one of my favorite subjects. And - the Top 5 Transformers Toys for 2010 are nothing to "sneeze at" - these are some toys that truly are something else, and are more true to their characters than any toys from the Transformers lineup that I have seen.
Wanna see em? =)
Here they are - the best Transformers toys (in terms of popularity and sales) for this year:
____________________________________________________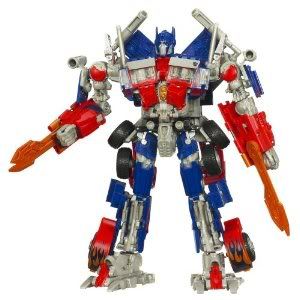 1. Transformers 2 Leader Optimus Prime
Ages:
For kids age 5 and up
Retail Price:
About $45
Merchant Discount:
Yes
Merchant: Buy.com
eBay: Find it on eBay.com
One of the most impressive toys I've had the pleasure to take a look at from the Transformers collection for 2010 -
Leader Class Optimus Prime
. There is a rather amazing amount of detail, plus some fun lights and sounds to boot.
Merchant Info:
With the destruction of Megatron, Transformers Leader Optimus Prime thought that he was finally, after millions of years, at peace. Little did he know that the escape of Starscream would draw dozens of new Deceptions to Earth. The desire that burns brightest in his Spark is that the war will soon end. He is determined to see that end come, and so he works with his human comrades and the other Autobots to hunt the Decepticons that have come to Earth...
____________________________________________________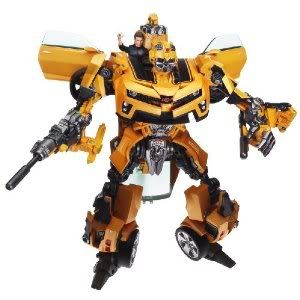 2. Transformers 2 ROTF Human Alliance Bumblebee with Sam
Ages:
For kids 5 years old and up
Retail Price:
Around $35
Merchant Discount:
Yes
Merchant: Buy.com
eBay: Find it on eBay.com
Bumblebee takes great care of his best friend - Sam Witwicky. That's what this toy is all about - Sam can ride along in bumblebee as a Camaro, or be carried by him in robot mode.
Merchant Info:
Best buddies forever! Bumblebee's battle mask slides into place Includes Sam Witwicky Action Figure as the driver. Seating for 2 humans inside.
Transforming Bumblebee robot from the Transformers: Revenge of the Fallen movie.
____________________________________________________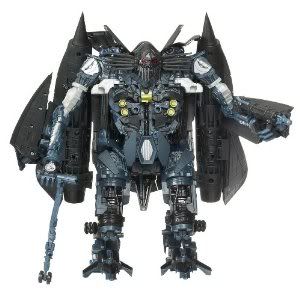 3. Transformers 2 ROTF Leader Class Jetfire
Ages:
For kids 5 to 12 years old
Retail Price:
Around $55
Merchant Discount:
Yes
Merchant: KMart.com
eBay: Find it on eBay.com
Ya just gotta love Jetfire. He is probably the most "colorful" character in any of the movies or shows I have seen, and is also
one tough good guy
. Decepticon turned autobot, this is someone you definitely want on your side. =)
Merchant Info:
Leader Class Jetfire is part of the very popular "Leaders" from the Transformers ROTF movie. It transforms from its robot version into a plane and back again.
____________________________________________________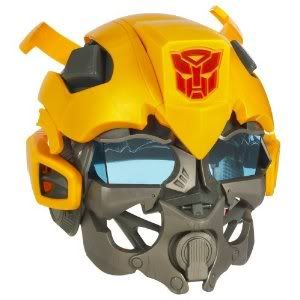 4. Transformers 2 ROTF Bumblebee Voice Changer Helmet
Ages:
For kids 5 to 11 years of age
Retail Price:
Around $45
Merchant Discount:
Yes
Merchant: Buy.com
eBay: Find it on eBay.com
The Bumblebee Voice Changer Helmet is a very special toy for those kids who are particular fans of Bumblebee. Tune in to his "radio stations", hear all kinds of fun and realistic sounds and yes - it can change the sound of the wearer's voice. A very cool toy this year - and has been quite populr now for some time.
Merchant Info:
Become the street-smart, frontline AUTOBOT warrior with this TransFormers 2 Revenge of the Fallen Role-play Bumblebee Helmet! Use your wits and power to battle the DECEPTICONS and protect Earth from their evil. When you've got the power of BUMBLEBEE, nothing can stand in your way! Suit up just like the BUMBLEBEE character and prepare to save the universe with your amazing voice-mixer helmet! With three different modes and awesome electronic features on this detailed helmet, you'll look like the TransFormers Movie hero, and you'll even sound like him, too! Switch on voice mixer mode to have your voice remixed with six different music styles. The helmet also plays realistic conversion sounds of the BUMBLEBEE character changing from a car to a robot and back again, or his movie battle phrases including, 'BUMBLEBEE to the rescue! 'Your Mission' Protect the world from evil' and several more! Easy-to-adjust straps help you get a comfortable fit. Adjusts to fit head sizes ages 5 through adult.
____________________________________________________
5. Transformers 2 ROTF Voyager Class Ironhide
Ages:
For kids age 5 and up
Retail Price:
Around $30
Merchant Discount:
Yes
Merchant: KMart.com
eBay: Find it on eBay.com
Ironhide is known as a real "tough guy" - and is one of the most skilled autobots in the bunch. This is a good toy depiction of him - and is a good choice for any Transformers fan, or lovers of the movie.
Merchant Info:
Stalking through the jungles of Southeast Asia, IRONHIDE moves in absolute silence. The only sound is the dripping of the never-ending rain from the broad leaves of the immense trees. Yet he knows DECEPTICON BLUDGEON is here somewhere, waiting for him. He has come to this verdant place to hunt the DECEPTICON martial artist and finish the job the other AUTOBOTS left undone. He has come to track and destroy a dangerous DECEPTIOCON warrior, once and for all.
____________________________________________________
I personally have a "penchant" for the Top 5 Transformers toys listed above because yes, they are all in my household - somewhere. =) I can tell you on a first-hand basis that for any young (or older - ahem) Transformers toys fans out there, any of the above would be a good choice for a gift. There are more to choose from, however, and perhaps one or another of these would be a good choice as well...
Recommended Resource: