The
top 5 toys for kids under $20
in 2010 are actually a great lineup for kids of various ages - and
also
are some of the most popular toys for kids this year.
Even though some of the best or "hottest" toys this year are far outside of this price range, this list shows that it is possible to shop for kids on a budget - and still provide some real fun (and learning too!).
That being said, from the list of the top 10 toys under $20 this year, here are the top 5 picks:
__________________________________________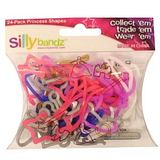 1. Silly Bandz
Ages:
For kids about 5 to 12 years old
Compare Prices:
Silly Bandz are just about the hottest thing "since sliced bread" this year - and they only cost a few dollars per pack (sometimes less from some resources). They are available in some very cool shapes, including dinosaurs, "Rock Bandz" and more.
Merchant Info:
Kids everywhere are going wild over Silly Bandz. These colorful Silly Bandz are made of silicone and die molded in many different fun shapes. These rubber bands return to their original shape when you take them off the item they're holding (or off of your wrist).
____________________________________________________
2. Melissa and Doug Cutting Food Toy
Ages:
For kids about 3-6 years of age
Compare Prices:
Here is a great toy, and one of the most popular this year, period. In addition to kids having fun pretending to cut food, this is a good approach to helping kids learning about "parts" or fractions of objects. =) Definite a worthy addition to the best
toys for kids under $20
- and in my opinion it is worth more.
Merchant Info:
This set contains eight pieces of wooden food, a cutting board and a wooden knife. Food makes a fun "CRUNCH" sound when sliced. With 31 pieces, it's also a great way to introduce the concepts of part, whole and fractions.
____________________________________________________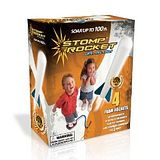 3. Stomp Rockets - Various Toys
Ages:
(Various ages, depending on the toy)
Compare Prices:
Hey, how about stomping on something, and watching a rocket shoot high up into the sky? Sounds like fun to me. =) (Various Stomp Rocket toys available for kids of different ages.)
Merchant Info:
Kids can get rid of some excess energy with this air-powered outdoor rocket toy. No battery or fuel is needed to get the rockets airborne--just some old-fashioned stomping power. Set up the simple launch stand in a clear outdoor area, connect the 38-inch-long vinyl air hose and blast pad, load one of the 9-inch yellow foam rockets--and watch out. Our 5-year-old assistant reviewer really got a kick out of jumping on the purple blast-off pad and watching her rockets soar 50 feet or more, though she had to fight the adults for a turn. If the three rockets included with the kit aren't enough fun, you can order stomp parachutes and spin copters from the manufacturer.
____________________________________________________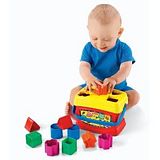 4. Fisher Price Brilliant Basics Baby's First Blocks
Ages:
For babies about 6 to 36 months old
Compare Prices:
This is a great toy to introduce very little ones to differentiating among colors, shapes and using their eyes and hands to fit the pieces into their matching holes. This toy has been
very
popular for a number of years now, and with good reason. =)
Merchant Info:
Ten bright blocks are ready for baby to drop into the open bucket or through the shape-sorting lid. Baby will love filling the bucket with blocks, dumping them out, then starting over again. Great for eye-hand coordination and other early skills. Then baby can move on to sorting and stacking and learning about identifying and matching shapes. Includes plastic shape-sorting box with take-anywhere handle and ten colorful blocks.
____________________________________________________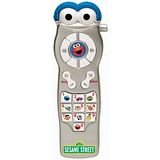 5. Sesame Street Silly Sounds Remote
Ages:
For kids about 1 1/2 to 3 years old
Compare Prices:
Elmo's eyes top this remote, which makes quite a number of fun sounds and with various sayings for kids. Very cute. =)
Merchant Info:
Now your child can control the fun with a remote control of their own! Hear over 35 silly sounds and fun phrases as children press buttons just like those on a real remote. Giggle away with fast forward and rewind sound effects, a real working volume control and Elmo's eyes that open & close! Requires 2 "AA" (LR6) alkaline batteries.
____________________________________________________
The top 5 toys under $20 are but a small taste of quality and fun toys that can be purchased this year - also toys for kids of older age groups can be found in this price range.
For additional information and choices, visit:
Tonya B.