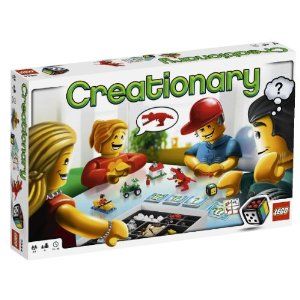 Growing up in the 80's and 90's, there were LEGO products (basically the building blocks) and then there was Pictionary -- never the two did meet. Until now. The LEGO Creationary Game is a spin on two things that brought the most families and friends together 20-something years ago. Ranked as number one in a list of the
best LEGO board games
, this has been dubbed the "together" game because it brings people closer. It makes those fond family memories -- the kind you look back on after decades and still get warm & fuzzy about.
The basics:
-- There is one buildable LEGO dice, 1 LEGO minifgure, and 1 LEGO microfigure -- accompanied by a rule booklet, 96 action cards, and 341 LEGO pieces for construction and creating. Between 3 and 8 people can play at one time with a recommended age beginning at 7 years old. There are 3 levels of difficulty -- therefore, game time can take anywhere from 30 minutes to 2 hours.
The how-to's:
-- The LEGO Creationary Game is a combination of traditional LEGO building blocks and Pictionary -- meaning others will try to guess what someone has built in order to score a point for themselves or their team. The builder will roll the dice to land 1 of 4 categories -- buildings, vehicles, nature, or things. Depending on the dice, the builder will then pick a card with a secret word on it. Don't let the others see the card! Then the building commences -- giving the non-builders the opportunity to guess what the potential LEGO master is making.
Overall:
The LEGO Creationary Game is all about imagination and how well you can convey your 'secret word' through creation. On the one hand, you don't want to be too good because other players would easily guess and gain a point. On the other hand, all of your creations will be guessed based on what your team members interpret. This game is a learning experience -- albeit an entertaining and fun one.
_________________________
Where to buy it online:
_________________________
Video - check out the entire lineup of the top 10 LEGO board games this year (2012):
_________________________
For more info on this and the rest of the lineup for this year, visit:
http://www.squidoo.com/top-10-lego-games