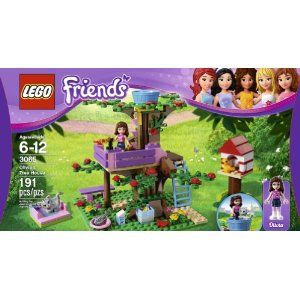 Children can lead a charmed LEGO life with the LEGO Friends Olivia's Tree House Set; a colorful blocks set that incorporates the elements of classic LEGO products with what modern kids would enjoy -- such as building a tree house for a little girl named Olivia and her animal friends. Ranked as one of the
best LEGO sets
2012, this will keep little ones (and their parents) busy for hours.
This setup is recommended for children between the ages of 6 and up; however, any child (with adult supervision) can build and play to their heart's content. For younger kids, it's highly advised that parents or guardians be in the vicinity, as these pieces are small and most children are prone to putting LEGOs in their mouth.
The LEGO Friends Olivia's Tree House Set features 191 total pieces -- including a mini-doll (named Olivia), her 2 animal buddies (a kitten named Maxie and a canary named Goldie), and a tree house full of everything that interests her. The story of Olivia and her pets is one that any child can elaborate on, but the instructions do well to give kids a backdrop into the doll's personality. Olivia is an explorer, adventurer, and inventor -- she loves all things in nature with birds and stars as her areas of expertise. Accessories include a telescope, several birdhouses, and everything a little girl could need for her thorough worldly explorations.
Made with love from LEGO friends, this tree house set is designed to accomodate any of the other LEGO friends mini-dolls. Olivia can have her friends over for picnics and nights of star-gazing; she can also visit other set-ups and explore an entire world of LEGO friends and their custom spaces. Children can also build onto the LEGO Friends Olivia's Tree House Set with pieces from other setups -- all LEGO friends pieces are fully compatible with eachother. It's a unique and impressive way for kids to build their own stories.
Video - check out this and others in the lineup of the best LEGO sets for kids for 2012:
For more info on the "best of" LEGO sets this year, visit:
http://www.squidoo.com/top-10-lego-sets