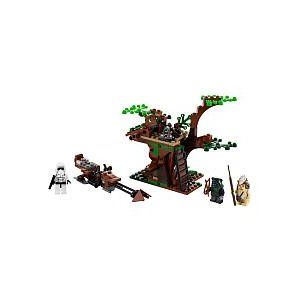 As the cutest but most vicious little fighters on Endor's Forest Moon, Ewoks are furry favorites of anyone who has ever watched Star Wars. The LEGO Star Wars Ewok Attack Set is just as much fun for adults as it is for children. With a recommended age range of 7-12, even the oldest kids at heart can spend hours with one of the
top 10 LEGO Star Wars
sets -- it's a must-have!
Imagine this:
- You're an Ewok of high-standing in Endor; a superior and advisor to your peers and loved ones. Unfortunately, your land is being threatened -- but the threat is sending a lone scout trooper ahead of the rest to assess the dangers of Forest Moon. As you prepare for battle, you let loose an Ewok battle-cry that could shake the very foundation of your community -- your followers echo your declaration of war just as the scout trooper arrives. Attack! -
The LEGO Star Wars Ewok Attack Set features mini-figurines of a scout trooper, a Logray, and an Ewok warrior -- including their weapons of choice; a spear, sling, and bow. The treetop hideout is the main event with a stone launcher, log trap, secret compartments, and escape routes to allow your Ewok army to avoid an untimely demise. There's also a retractable ladder that can be pulled up just in the nick of time -- before the scout trooper invades your Ewok fortress.
The LEGO Star Wars Ewok Attack Set is durable enough to be moved around the house. Despite the extremely affordable price, this set is constructed like something more expensive -- built to last through years of the usual toy-related abuse that children are prone to delivering. It's a great set all around, as a starter or a new piece for a hardcore, die-hard Star Wars fan.
___________________________________
Where to buy it online:
Video - take a look at the whole lineup of the top LEGO Star Wars sets for 2012:
___________________________________
For more info, access to reviews on this set and the rest on the list, visit:
http://top-10-store.com/top-10-lego-star-wars-sets/