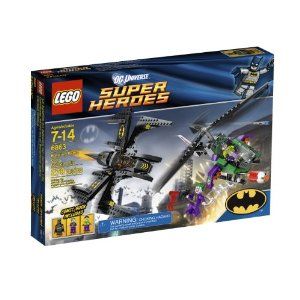 Can your kids often be found running through the house with bedsheets tied around their shoulders to simulate a cape? Do they slay invisible monsters while watching reruns of their favorite super heroes on television? Give them something productive to stimulate their growing creativity and flourishing imaginations. Voted third in the
top 10 LEGO sets
rankings, the LEGO Super Heroes Batwing Battle Over Gotham City Set gives super kids the opportunity to live out their dreams of Batman grandeur.
Complete with everything needed to defeat a dry-humored nemesis, this set includes 3 mini-dolls (Batman, Joker, and a Henchman), a helicopter & batwing, and a slew of toy missiles to enhance the chance of Joker's demise. If kids want a fair fight between the 2 long-time enemies, Joker's mini-figure is equipped with easy-release tanks of toxic laughing gas (all pretend) and a henchman to do all his dirty work. Also accompanied with drop-down rope ladders for mid-air battles, each character's hands are in a grasping grip to hang on while combat rages in the sky. Will your kids be the ones to finally defeat the grinning muddler -- allowing the residents of Gotham to sleep peacefully once again?
All kids (and the grown-ups who are children at heart) will enjoy knocking the caped crusader's giggling goofball off his helicopter. Instructions are included with every LEGO Super Heroes Batwing Battle Over Gotham City Set, along with a Batman comic book for readers and collectors. Kids can rest assured the City of Gotham was saved thanks to their ingenius fighting methods and excellent defense against Joker and his right-hand man. For those who want to incorporate hostages and a few more bad guys, LEGO Super Heroes and LEGO Friends offer backwards compatible mini-figures and accessories that will accomodate any setup.