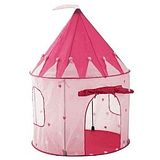 The Pink Princess Castle Play Tent for Kids is the perfect addition to a little girl's indoor or outdoor play area. Able to accomodate two children of royalty, this nylon pop-up tent springs to life when assembled. The instructions are concise, featuring pictures and guiding phrases so adults can navigate pieces of the tent with ease. A dome of pink is decorated with hearts to serve as the castle walls. The tent is then topped with a pointed ceiling that flies a white flag. Darker pink flooring accompanies outlines of windows and a flap-covered entrance. It's a sweet safe haven for the princess in your life!
Here's what other parents are saying about the Pink Princess Castle Play Tent for Kids:
-- "As a mother of 2, I'm no stranger to play tents and princess costumes. This cute little tent doesn't rip easily and brings a whole new world of imagination to my daughters. There are no frills and fluff -- which means this tent was far more affordable than most others. Fortunately, all my girls wanted is their own princess playhouse where they could make up stories and be safe from lurking dragons."
-- "This is one of the most durable and adorable playhouse tents I've ever seen. The Pink Princess Castle Play Tent for Kids advertisement says it can fit up to two children but my nieces and daughters squeezed in 4 -- with room to spare! The port-hole windows allow for proper ventilation so none of the kids complain about getting too hot; plus, the flapped door cover gives them some privacy from prying parental eyes (or so they think)."
Based on these testimonials, it's easy to see why the Pink Princess Castle Play Tent for Kids is the number one choice of parents who want to give their children a royal experience. It's a delightful way for kids 3 and up to enjoy their playtime!
Editor's note: The Pink Princess Castle Play Tent ranks highly on the list of the ten
best kids play tents
for 2012 - for more info on this and other tents on the list, visit:
http://www.squidoo.com/top-10-kids-play-tents