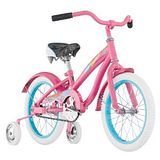 Little girls often consider themselves princesses -- decked out in pink with glittered toys and a love for all things super-cute. The Diamondback Girls' Mini Della Cruz Cruiser Bike is no exception. Considered a classic because of the vintage design coupled with a modern touch, this little cruiser has ranked as one of the
best kids bikes
since it's release a couple of years ago. There are no defining marketing logos on the bike -- save for a decal with flourishing floral patterns around the small brand name.
Pink and blue mesh well in a vibrant color scheme, shining in the sun as the aforementioned little princess pedals her way through the neighborhood. Since there are no logos to worry about and no interests to outgrow, this is a bike that can age as your child does. The hues are always in style and the training wheels can be removed when kids are ready to rely on their own sense of balance.
After scanning hundreds of reviews and testimonials related to the pros and cons of the Diamondback Girls' Mini Della Cruz Cruiser Bike, the most prominent disadvantage seems to be the lack of instructions. The bike has to be assembled and without instructions, it could be more difficult to put together if an adult has never arranged a child's bicycle before. While instructions can be found online, most parents were miffed by the fact that there wasn't a clear-cut instructional packet within the bike's box.
Overall, this little bike has been described as a "hip ride for youngsters." Most children can expect to find the Diamondback Girls' Mini Della Cruz Cruiser Bike under the Christmas tree -- or in a pile of presents for their outdoor birthday party. Described as comfortable, affordable, and light-weight but not easily tipped over, these bikes are the ideal gift for little princesses with big expectations.
_______________________________________
For more info, access to reviews, etc., for this and a number of other kids' bicycle favorites, visit:
http://www.squidoo.com/top-10-kids-bikes