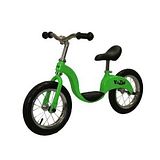 Ranked in a line-up of the revolutionary new-age list of the best
bikes for kids
, the Kazam Balance Bike is a unique alternative to traditional bikes & trikes. With many of the amenities of classic bicycles but none of the complexities, this bike is friction-free and made from high-quality, easily balanced materials. At first, it may seem like an odd way for a child to learn to ride a bicycle -- there are no training wheels and no pedals or chains.
There is also no uncomfortably huge seat -- kids ride the Kazam Balance Bike like they would a classic scooter, with their foot planted firmly on a support beam at the bottom of the bike -- pushing along like on a skateboard. This enstills a firm grasp of balance and allows children to focus on steering and keep upright; the act of pedaling will come later when a kid upgrades from a balance bike to a traditional bicycle. A raised, molded seat offers children the opportunity to sit and learn while training their bodily core.
While the recommended age on the Kazam Balance Bike is for kids 3-6, it can be used for any chlid who needs a little extra training time when it comes to how well they maintain balance. The old adage of "it's second-nature, like riding a bike" is true for most things in life -- however, first kids have to get through the difficult part of actually learning how to ride the aforementioned bicycle.
Some people might shake their head in frustration when hearing the old adage because not everyone has the best sense of balance. Not everyone knows how to ride a bicycle. The Kazam Balance Bike is for those kids with the desire to learn -- the ones who would have been overlooked a decade ago when they wouldn't have been able to get the knack of training wheels.
______________________________________
Where to buy it online: