Alright shoppers for little boys! If you happen to be searching for the best toys for boys for the holiday season 2009 and into 2010, here are the
Top 10 Boys Toys:
1. 7n1 Maxus Drago Bakugan (Boys 5-15 years)
- This is also #1 in the "
Top 10 Kids Toys
" - period. It is not just a Bakugan toy - it's actually 7! Kids put together 7 separate Bakugan toys to make a sort of "combo monster" Bakugan. This right now for Bakugan lovers is the ultimate toy - and will definitely be a hit with a boy who loves these toys.
2. Disney Netpal Computer (Kids 6-12 years)
- This is a great new computer for kids - it's a real PC with special parental controls and a fun Disney theme. (The "boys" version of the computer comes in "Disney Blue".) Kids are sure to love to have their own computer with all the capability of the real thing - including Wi Fi and more.
3. Nanover Nanoscope Digital Collectible (Boys 7-12 years)
- Kids can play these games online with each other - up to 4 Nanoscopes at the same time with the Digital Collectible. Over 100 Nanover monsters to play online - kids can play offline as well.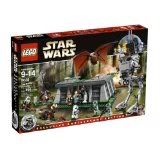 4. Lego Star Wars Battle of Endor (Boys 9-14 years)
- Here is the Lego version of the Battle of Endor from Star Wars - and what a version it is! Kids can put together the set, play out the battle - it's quite a fun and creative toy. There are other "Battle of Endor" toys that are also available that are non-Lego versions.
5. Star Wars Clone Turbo Tank (Boys 4-8 years)
- This is a great tank! It holds up to 20 figures, has lights and sounds and is just about as much like the real thing as anyone can get! A great toy for a little Star Wars fan.
6. Playskool Chuck My Talking Truck (Boys 3-6 years)
- The "Chuck" character has become quite the popular item with the little lads, and this truck is motorized, makes plenty of fun sounds and even comes with his own story book. A great toy for very young boys.
7. Transformers 2 Leader Optimus Prime (Boys 5-12 years)
- Yes, I knew we'd be seeing this in the "hot list" this year! Some amazing toys have come out of the Transformers 2 movie, and this is the most popular of them all. This Optimus Prime talks, has lights and has a great vehicle to robot transformation.
8. Fisher Price Superfriends Batcave (Boys 3-7 years)
- Here is another set of toys for the littler ones - Batcave comes with a drawbridge and plenty of fun little gadgets to pretend with. A great toy for the younger of the Batman fans.
9. Eyeclops Night Vision Infrared Stealth Goggles (Boys 8 years and older)
- Eyeclops has done it again! They made some of the toys that arrived on the "hot list" last year as well, this year the night vision goggles are a big hit. Kids can see up to 50 feet away in complete darkness! =D
10. Scientific Explorer's Mind Blowing Science Kit (Boys 4-8 years)
- For kids with a curiosity or scientific "bent" this is a fun and amazing toy. Kids can an erupting volcano, make "ooozey" stuff and more. All chemicals are safe. A note about this toy - it's not a "new" toy, and has been around for some time. But - the fact that it still remains on the hot selling list really says something about it!
There you have the
Top 10 Toys for boys
this year - the
best toys for boys
for the end of 2009 and well into the 2010 year. Fun lineup - creative and fun toys with some super fun "hi tech" mixed in. =)
All for now - look for more information on kids' toys by age group coming up in the next several posts! =)
Tonya B.