Info for baby shoppers!
This year there are some truly great choices for baby toys - I did some "looking into" on this matter, and found the
best baby toys 2009-2010
- here they are: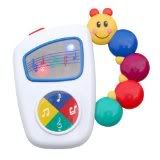 1. Baby Einstein's Take Along Tunes
- Baby Einstein toys are known for their high quality and durability as well as the fact that they bring out early learning development by creating toys that babies truly love. The "Take Along Tunes" toy tops the list this year - it provides musical enjoyment for babies.
2. Brilliant Basics Baby's First Blocks
from Fisher Price
- These blocks are not only fun for babies, they also exercise eye and hand coordination and help with babies' first learning.
3. Hasbro Playskool Busy Ball Bopper
- This has been on the baby toy "hot list" for quite some time now - that's because it is one of the most entertaining toys for babies around! Balls roll down the chute, pop out the top and roll down again. Babies can control the balls, try to catch them - stimulating and fun activity for very little ones.
4. Lamaze Jaques the Peacock
- You just have to love Lamaze! They make some of the most colorful and stimulating toys for babies. Jacques the Peacock has many colors and patterns and crinkly sounds to keep baby entertained - even a peek a boo mirror and a squeaker sound.
5. Leap Frog Learn and Groove Musical Table
- This is another toy on this year's list that was also a hot seller last year. This is a great table for babies from infancy stage all the way to toddler - and is known as the "table that grows with baby" - it has removable legs so is great for laying on the floor before baby can stand and once reaching toddler stage the legs can be added. Lots of activities for each stage of learning development between infancy and toddler.
That's the list of the best baby toys 2009-2010 - I hope this has helped you purchase the perfect toy for a special little one!
Happy baby toy shopping! (My favorite kind :D)
All for now -
Tonya B.
Additional Resource: