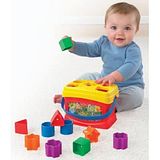 The
best baby toys
are innovative and inspiring, urging a baby to work to find a solution to a simple problem. Puzzles have become abundant with small tots, while classics -- such as the Fisher-Price Brilliant Basics Baby's First Blocks – are still tried and true. Recommended for children from 6 months of age and up, these building blocks help a child develop meaningful cognitive and motor skills that will last them through their childhood and beyond.
_____________________________
The following is a mixture of positive, neutral, and negative reviews from parents who have experience with this specific toy.
"I have 2 children – ages 7 months and 2 years – who I thought these blocks would be good for, as far as learning goes. I was right on one count. My 2 year old loves them and is working on getting all of the shapes in all of the right holes. Unfortunately, my 7 month old hasn't caught on yet, and prefers to bang them together or drool on them. These are great as far as being durable and great blocks, but I think the age range should be 2 and up."
"I feel so happy when my 18 month old looks at me and says, "Mama! I did it!" She's learned so much about shapes, colors, and organization since we bought her these building blocks. I remember having a set when I was a little girl; therefore, I thought it was only natural for my daughter to have the same learning advantages. It's basic, inexpensive, durable, and keeps her entertained for hours."
"This is a simple set with 10 colorful blocks and a bucket with shapes in the lid for the blocks to drop through. Everyone has had a set like this! It's classic and I've noticed my kids spend more time putting things where they belong after having played with this toy for only a few months."
Where to buy Brilliant Basics Baby's First Blocks from Fisher-Price: