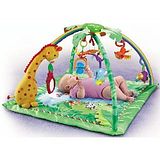 It's a proven fact that babies need an interactive environment to enhance their mental and coordination skills. It's their brand of amusing education – something that many parents rely on older children to give to younger kids. However, what happens when your baby is an only child? With the new
toys for babies 2012
, there are a few options for parents who want to help their pre-toddler learn and grow. One example is the Fisher-Price Rainforest Melodies & Lights Deluxe Gym; a proverbial jungle gym for those pre-k learners that grows with them as they go from immobile infants to running toddlers.
______________________________
What's included with this toy?
Made from soft materials with a quilted floor mat as the base, children can look up at smiling wildlife (like giraffe, zebras, and a few parrots) while being soothed by gentle music. There are several settings – one specifically for kids who are being put down for a nap, complete with comforting sounds – while another features playful rhythms from nature. 5 activity toys dangle over a child's face, enticing them to reach and explore their surroundings. An array of bright colors will hold baby's attention, inviting him or her to smile in wonder.
Cons:
Perfect for tummy time and getting baby used to being in a crawling position, the gym has a few cons that parents have noted. One is the battery power. Unfortunately, the panel for the batteries is hidden and hard to get open. A few parents have reported having to give the panel a light smack before the sounds will work again. The second and last complaint is really just an annoyance. Some parents wish the gym were easier to wash. While the mat detaches and can be machine-washed, the arches are trickier and require good ole' fashioned manual scrubbing with soap, water, and a washcloth.
________________________________
Link to the official website for Fisher-Price:
http://www.fisher-price.com